Many products use materials sensitive to heat and moisture. Extreme heat or humidity could damage materials such as adhesives, and chemical compounds used in products. This raises the question: can the conditions of ocean freight containers damage your products during shipping?
A study by Xerox engineers sought to answer this exact question. They conducted their study on international transports from Japan to the Midwestern region of the USA. This means both ocean and inland transports are included for comparison purposes, and should be applicable for most cross continent shipments, such as from China to US, or Europe. The temperature and relative humidity measurement results illustrated below account for both the extreme conditions of summer and winter. The studies found that freight containers traveling either the Atlantic or Pacific vary from -29C(-21F) to 57C(135F) in the most extreme transport conditions.
However, we are able to develop a much more interesting and meaningful conclusion by differentiating the temperature conditions of land and oceanic transport.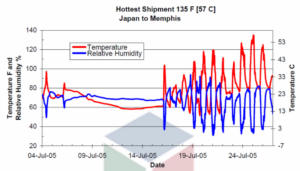 From the data, it can be deduced that the majority of the temperature and humidity fluctuation occurs during the inland transport process, and not during oceanic transport. For example, the temperature of a freight container during summer months may reach 57C (135F), but the actual oceanic temperature fluctuation during oceanic transport does not surpass 26C (80F), as seen during the dates of July-9-2009 to July-16-2009. A similar trend of milder, steadier, temperatures during winter season is also evident.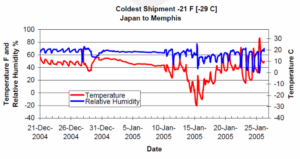 So what do these temperatures mean? Virtually any products that can be safely transported by ground shipping can also be safely transferred across the ocean via oceanic freight. This is because ground shipping conditions are much more extreme than oceanic shipping conditions.
In the rare case where products are extremely sensitive, additional preparatory transport measures can ensure that your products arrive in safe condition. From manufacturing to delivery, E-BI conducts thorough research on the production process to bring its customers the highest quality products possible.